Join us out at our farm site
The best place to learn about the Norwegian aquaculture industry is at the edge of the pen. We'll take you to one of our full-scale farm sites in Flatanger, where you'll get to experience the salmon up close. Visiting us will give you good insight into the practices of modern salmon farming.
A viewing tour includes both a film presentation about salmon farming and about Bjørøya, as well as a fast-paced and exciting RIB trip out to our ocean facility. The trip out to the ocean facility starts from our viewing center, which is located in the center of Lauvsnes (see map). Here, you'll get a tour of the center and a presentation by our viewing staff. You'll then be given a flotation suit and life jacket before the tour leaves for a fantastic journey through the beautiful archipelago in our safe and sturdy RIB boats. The tour is suitable for people of all ages.
Out at our site, we'll head to the pen where you'll have the chance to get up close and personal with the salmon. Throughout the tour, our communicators explain and tell our story – and are more than happy to answer any questions you may have.
The tours are available for booking every day and are subject to capacity.
Appropriate dress is according to the weather – remember it's always colder at sea than on land, so don't forget your hat, gloves and a good pair of shoes.
We have a minimum of 4 registrations as a requirement before we take a tour out, with a minimum price of NOK 1,000. Registration must be received by 3 pm on the day before.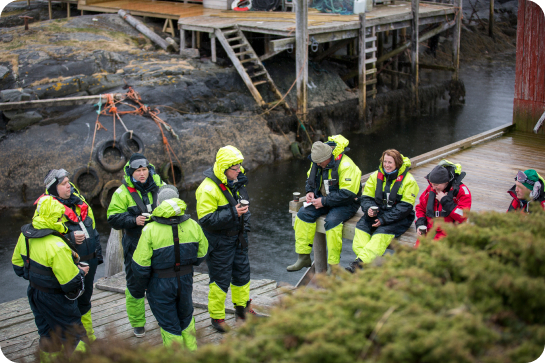 Prices
Children: 150 kr
Adults: 250 kr
Varighet
Beregn 2-3 timer. Opplegget på sjøen tar omtrent 1 time.
Skolebesøk på senteret
Gjennom et pedagogisk program vil elevene tas med på et engasjerende opplegg. Tematikken spenner fra mattrygghet til fiskevelferd og -helse.
Order guided tours